Sunday, April 8th, 2012
---
9:47 pm
Monday, November 14th, 2011
---
11:58 am
i miss livejournal.
1 | +
Friday, July 2nd, 2010
---
7:21 pm
"when you love someone, let them go. if it's meant to be they will come back to you."

that's how i know.
+
Wednesday, June 30th, 2010
---
5:41 am
To dare is to lose one's footing momentarily. To not dare is to lose oneself. ~Soren Kierkegaard
+
Tuesday, January 26th, 2010
---
11:59 am
the important thing is that i'm motivated today.
+
Saturday, January 9th, 2010
---
7:51 pm
- random thoughts...
i got lost in my headphones and a meisel spread on the elliptical yesterday. but other than that i was one big lazy bum. my family left and i feel funny. like half sad and half relieved. i dread going back to the reality of all the work i have to get done in the next four weeks. it was actually a pretty long vacation. i spent a week in barcelona with my family. barcelona is like a modernista playland. i did a gaudi inspired collection in my portfolio so it was so cool to get to see the stuff in person. i also got an afternoon with jolly and jordi which was excellent. it's truly one of my favorite cities. then we flew back to milan and took several day trips in and out of milan: verona, venice, florence...ozz comes in next weekend and i can't wait to see her. i speak a pretty good italian now. my roommate myra just came back from a four day machu picchu climb and i missed her so much. i love skype and i hate school. all my roommates and i do is listen to john legend, cook, eat, start art projects, plan things, book travel and procrastinate...and i love it. today we booked roundtrip flights to barcelona for under 30 euros. loves easyjet.
+
Friday, January 1st, 2010
---
9:17 am
i'm feeling a little bit blissful that 2010 has finally arrived. i rung in the new year with a good full night's sleep. flying back to milan from barcelona today and taking my family with me. can't wait to show them my home! buon anno a tutti!
+
Tuesday, December 8th, 2009
---
12:08 am
my heart seriously skips a beat when i think about how amazing belgium was. myra and i visited brussels and antwerp fueling our brains with inspiration. chowed down on waffles, chocolate, frittes and sampled belgian beers. made some new friends, both italian and belgian. oh my gosh i had the best time - there are no words. i just want to go back NOW!
1 | +
Monday, October 19th, 2009
---
10:48 pm
i have never been so busy in my life.
+
Friday, October 2nd, 2009
---
5:42 pm
it just hit me. i fucking live in milan! there was something about standing on my balcony overlooking the navigli canal that made it sink in. we got our furniture delivered today, so tonight will be the first night sleeping in my own bedroom. i am so happy i came here and i'm ready to be pushed creatively in ways i have never been pushed before. everyday i'm improving the language bit by bit. tomorrow we depart for pisa and florence for a few days. i'm gleaming inside.
1 | +
Friday, September 25th, 2009
---
12:40 am
this is good.

so i'm sitting here at my residence in milan talking online to a friend a met here and i asked him what "le cicche" meant in italian. and so it goes...

him:
cuingam
i dont know how to write it but
i hope you undestood
like orbir
orbit
bigbabol

me:
i dont get it at all
WHAT?!?!
orbit...like...spinning?

him:
nooo
:):)
the thing you put in your mouth
chuingam
the one sweet you put in your mouth and move you teeth up and down

at which point i started falling off my chair with laughter. he was trying to say "chewing gum". it was only then that i went back to look at what he originally wrote, which initially i thought was jibberish, and realized that "bigbabol" actually meant big bubble - which made me laugh even more.

it was really cute. and i had to share because i haven't laughed that hard in a long time.
3 | +
Tuesday, September 1st, 2009
---
12:46 am
well, i arrived in milan. my last week in new york was awesome. shasta came to stay with me and help me out. and i don't know how i would have managed without her. we had just the perfect blend of productivity and leisure, including doing a ropes course!

but back to milan: so far, it just feels like i'm at camp. i'm in a dorm for the first month and so far i have only done organized activities. i think it'll sink in more when i actually have to go out on my own. we just have so much to do this week that there's no time for anything else.

but i did manage to order one "discount" in a failed attempt to order a "croissant." silly me.
+
Friday, August 21st, 2009
---
1:52 am
tonight i went to see catch me if you can at brooklyn bridge park. amazing movie and amazing view. this summer has been the best summer of my life. i feel so alive! i'm obsessed with john legend. let's get lifted. katie porter and i video-chatted. i'm crushing again, finally. shasta is coming on friday. life is good.
2 | +
Friday, July 31st, 2009
---
4:24 pm
this morning i woke up and had the urge to take my bike down to the red hook pool. i spent some quality alone time swimming, laying out and reading this book rachel got me for my birthday. it's a book of letters to a young poet that were written by rainer maria rilke. she had said she always goes back to this book when she's having a tough time or to give her inspiration. coincidentally the letter i read today was very appropriate. here's an excerpt...

The necessary thing is after all but this: solitude, great inner solitude. Going-into-oneself and for hours meeting no one--this one must be able to attain. To be solitary, the way one was solitary as a child, when the grownups when around involved with things that seemed important and big because they themselves looked so busy and because one comprehended nothing of their doings.
1 | +
Wednesday, July 29th, 2009
---
2:08 pm
- thoughts of the day...
-this is the most tropical summer i have ever experienced. if i'm not drenched from rain i'm drenched in sweat - or sometimes both.
-i am now in possession of my student visa! something about it makes me feel so freakin good inside!
-i have strep throat. it's pretty miserable.
1 | +
Monday, July 20th, 2009
---
11:22 pm
i've really been doing a lot these past couple weeks...

i went to six flags in new jersey with a big group of people for my friend chris's 30th birthday. there were fourteen of us total, all nine men were gay and there were five girls. so chris made up this cute little rhyme: nine fags, five hags, six flags!

a swimming pool is a huge luxury in new york city - considering nobody has them in their backyards. in california, going to a public pool seems really dirty but here it's great! there's this great olympic size pool in redhook we've been going to. redhook is this part of brooklyn that there is no subway to get to but my friend has a car. so it's not infested, but rather nice for a public pool. plus they separate the kiddies from the adult area. so i went twice this last week.

they also opened up this new park called the highline. it was an above ground freight railway back in the day but has been abandoned for years. so they have been working on turning it into an elevated public park. they just opened a week or two ago and it's gorgeous! my friend rachel and i grabbed some lunch to go and ate lunch up there.

and right now i'm sun-drained and sleepy.
4 | +
Tuesday, July 14th, 2009
---
10:07 pm
in every way possible i am trying to live my life. i cannot wait to leave the country yet i don't want to be running away - so i have resolved to enjoy myself as much as possible this summer. i'm discovering and rediscovering myself. i'm making it a point to do anything i have been putting off. i'm being very social and also trying to get back to that place where i find happiness in solitude.

in other news, i was looking at an old 2003 entry when i came across the words "we went to bang and then he slept over." and i'm thinking, would i really write something that crude? and then i realized i was referring to bang, that 80's 18+ club we all used to go to...i got a kick out of it.
4 | +
Wednesday, July 8th, 2009
---
1:40 am
i just got off the phone with andrew feldman. we haven't spoken in something like two years. it was really nice to catch up.

i just put up an ad on craigslist to sublet my apartment when i leave for italy and i thought i'd share the photos. gotta love that wide angle lens. it's too bad i have to leave this place.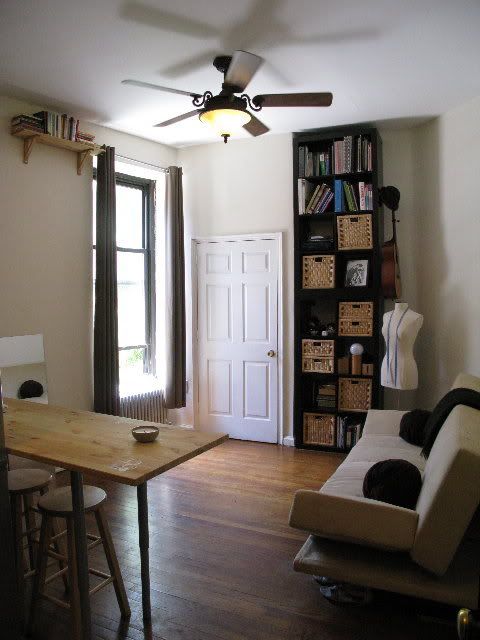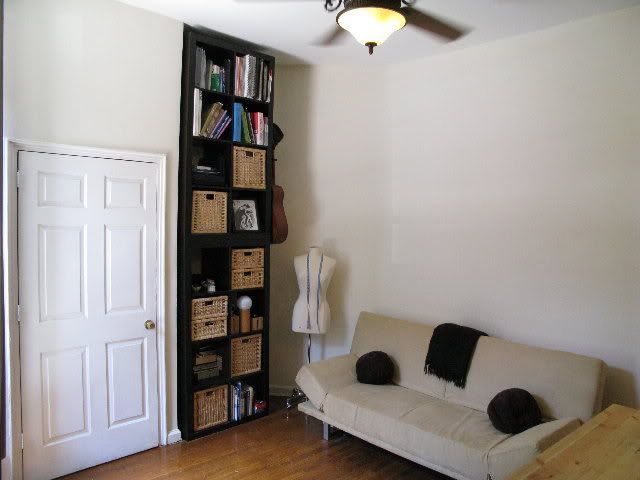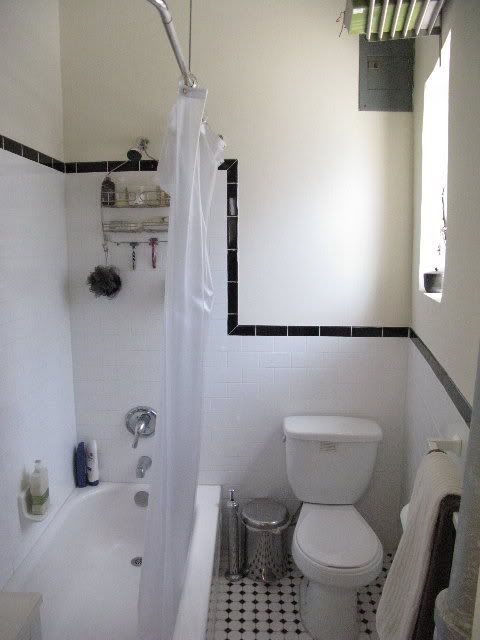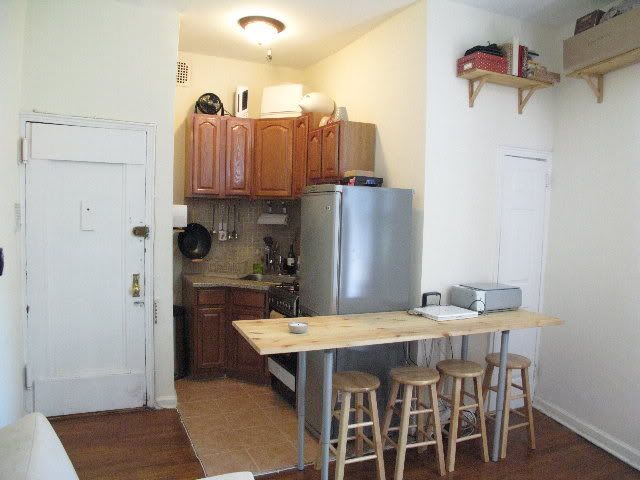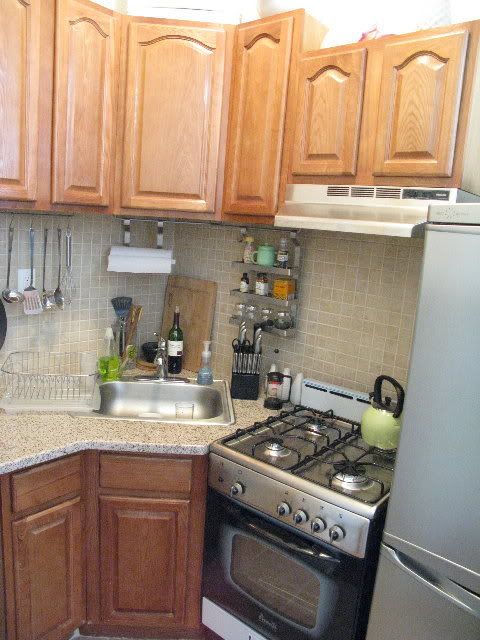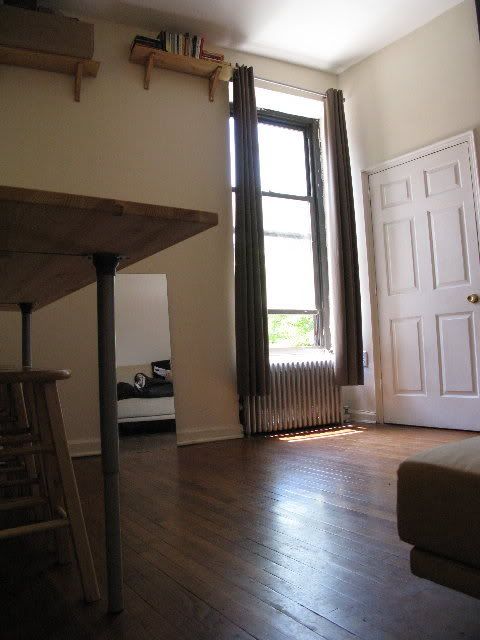 5 | +
Thursday, June 25th, 2009
---
10:49 pm
i've never really been affected by celebrity deaths...but damn, this is michael jackson! i still get chills every time i watch him perform. mad respect.
+
Tuesday, June 23rd, 2009
---
2:22 pm